In the arena of hydro excavation, the name '4 Warriors Hydro Excavation' has become synonymous with safety, efficiency, and professionalism. Our extensive industry experience, coupled with a strong commitment to customer satisfaction, makes us a trusted choice for all hydro excavation needs.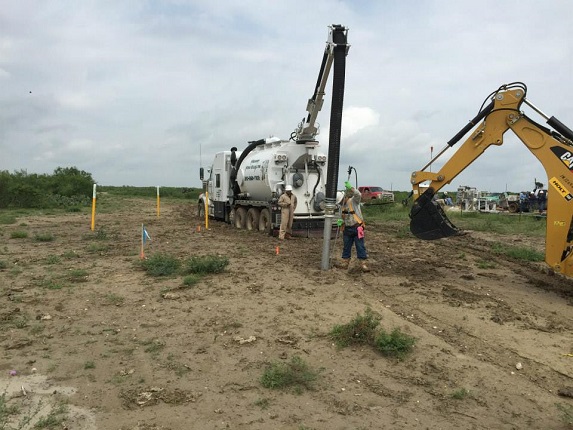 Mastery in Hydro Excavation
Our strength lies in our profound understanding and mastery of the hydro excavation process. Hydro excavation is not merely about moving soil; it's about ensuring precision, reducing collateral damage to underground infrastructure, and promoting environmental sustainability.
At 4 Warriors, we have invested in state-of-the-art equipment and robust training for our operators to ensure every excavation job is performed safely, effectively, and in a time-efficient manner.
A Broad Spectrum of Services
We cater to a broad spectrum of industrial needs, offering services that range from excavating the ground without utility damage or service interruption, verifying underground utilities ('potholing'), to making circuitous or straight-line ditches ('trenching'). Our versatility and capability to adapt to the unique needs of each project make us a one-stop solution for all your hydro excavation requirements.
A Cross-Industry Player
Our clientele spans various industry sectors, including pipeline companies, oil & gas companies, municipalities, federal & state agencies, and construction firms, among others. Our team is equipped with the necessary safety training to work specialty jobs in diverse environments, from refineries to nuclear facilities, making us a flexible and reliable partner.
Prioritizing Safety
At 4 Warriors, safety is not just a requirement; it is our way of life. Our operators are seasoned professionals who have undergone extensive training. We also maintain a full-time Health and Safety Executive (HSE) director that oversees site-specific training, certifications, and safety procedures.
Our proactive approach to safety means that our employees can perform at their best, clients receive top-quality work, and everyone involved can have peace of mind throughout the process.
Unwavering Commitment to Customer Satisfaction
Customer satisfaction is at the core of our operations. We believe in understanding our customers' needs first before we begin work. This approach ensures that we provide the most cost-efficient solution that aligns with the overall project timeline and objectives.
Whether it is a small-scale excavation or a large commercial project, our commitment to our customers remains steadfast. We ensure clear communication, transparency, and personalized service at every step.
Choosing a hydro excavation company is a significant decision that impacts the success of your project. With 4 Warriors Hydro Excavation, you are partnering with a company that combines expertise, a broad range of services, cross-industry experience, a stringent commitment to safety, and an unwavering focus on customer satisfaction.
Let's collaborate to make your next excavation project a resounding success. Contact us today to discuss your specific hydro excavation needs, and experience the 4 Warriors difference.