What is a hydrovac truck?
A hydrovac truck is a truck mounted unit and tank designed to dig whatever needs to be excavated with high pressure water. After the water is blasted into the digging area, an attached a pump unit sucks up all of the slurry (dirt and water mix) and sends it to a large tank mounted on the truck to be disposed of. Hydrovac technology is extremely safe for utility lines and digging around sensitive areas, it does not create the kind of damage typical excavation machinery does. It is also clean and does not leave a pile of dirt and mud next to the excavation site.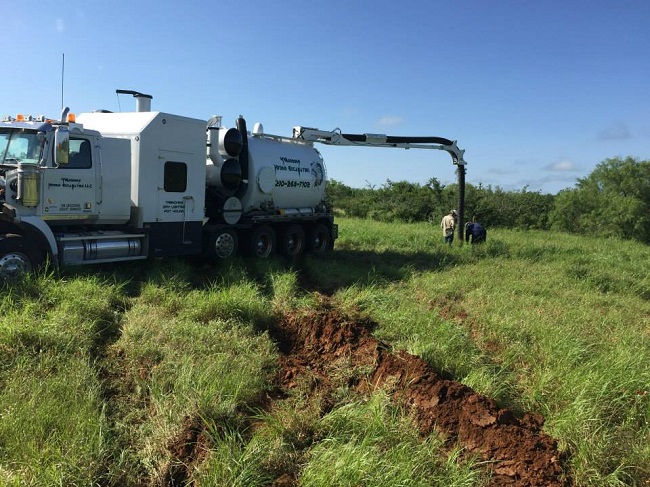 A fast and clean process.
Hydro excavation is a great alternative to typical excavating methods, especially when the area to be dug has lots of sensitive pipes and lines underneath. The hydrovac truck is able to get in close to areas without damaging everything in the vicinity. This is particularly helpful when digging up utility lines and older plumbing networks. It is also good for trenching and excavation on a larger scale. The speed and efficiency of hydro-excavation make it an excellent choice for contractors in a hurry. Because it is such a fast process, thousands of dollars can be saved on excavation costs.
Some uses of hydro-excavation.
Removing debris. Because of the precision nature of hydro-excavation, it is great for removing debris and cleaning up around structures without damaging anything. The water and pump lines can be extended to any area on a property guaranteeing that a heavy truck doesn't have to be driven right to the area.
Slot trenching. Digging trenches for installing cables and pipes is called slot trenching Typical excavation machinery causes an enormous amount of damage and mess when performing this task. They also dig the trenches far larger than they should be. Hydro excavation is extremely clean, non-damaging and fast, cutting trenching time down by a minimum of thirty percent. When attached to a vacuum unit, it leaves no mess or waste behind.
Daylighting. Daylighting is when utilities are dug up and exposed to the daylight. Essential to the repair process, standard excavation equipment does more damage to utilities than hydro excavation. Many times the repair the standard excavator did is far worse than the original problem was. Hydro excavation is safe and clean, and will not damage the underground utilities. Ideal for utility repair on any property
Choose the right hydro excavation company.
4 Warriors Hydro Excavation prides themselves on taking care of their customers as well as we take care of ourselves. We adhere to a strict ethical code of leaving all customers satisfied with the work we have done. Constant training and certification programs for our employees is a part of that process. We have multiple hydrovac trucks and can handle any job size. In business for over six years, we encourage you to contact us for your next excavation job.