There are many organizations and companies involved in building a community — a whole myriad of contractors. Among those are Excavators. Before the new wing of a library can be constructed, electrical lines and utilities need to be exposed so that they can be rerouted. Before those new classrooms can be built, old lines and gnarled tree roots need to be found and removed, and trenches cleared to put new lines in.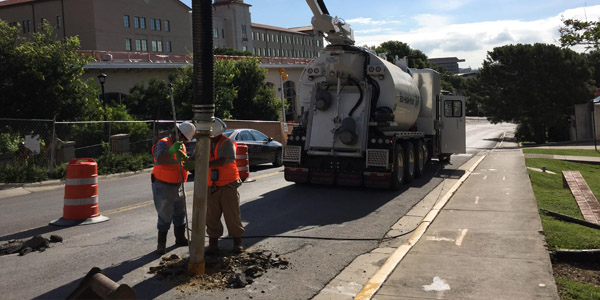 There are a few ways to go about trenching and excavating an area. Some of the basic methods are manual digging or using a backhoe, which can seem like easy ways to get the job done if you aren't calculating the risks and labor involved. Using a backhoe is powerful, but that machine is bulky and clumsy, and can end up causing more damage and therefore incur more costs. That giant claw does not have the precision required to clear dirt around pipes and wiring, and can even destroy them. Manually digging around everything might solve this problem, but this method is very labor-intensive and time-consuming. Everyone involved in business knows: time is money.
This is where hydro excavation comes in to save the day. Trenching via hydro excavation is an efficient, cost-effective service offered by 4 Warriors Hydro Excavation. Not only can they get your project moving quickly and efficiently, they are a company that truly values the customers and community that they serve. They can guarantee safety and reliability at competitive, thoughtful pricing. Contact us today for an estimate and see how hydro excavating can make help with your next project.